Mel C. Wasn't "Ready to Tell the World" About Pregnancy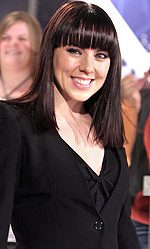 O'Neill/White/INF
Expectant mum Melanie Chisholm, aka Mel C., has already said that she will only be taking parental advice from her own mum — and that's the story that she's sticking to! Even though her fellow Spice Girls have "said they're only a phone call away to pass on any parenting tips," Mel is just happy her mother "will be there to guide and advise me." Grandma-to-be is "very excited" and "has looked forward to having grandchildren," Mel shares.
Although the singer and her partner Thomas Starr had "found out a while ago" that they were expecting their first child, they intended to keep the pregnancy a secret for as long as they could. However, speculation started in August when the 34-year-old performed at the Echo Arena with a stomach that looked suspiciously bump-ish.
"I was starting to show when I performed at the Echo arena and I was a bit self-conscious about that. I knew I would be showing a bit by then, but I wasn't ready to tell the world."
While the Spice Girl did announce that she was pregnant after that performance, sharing that the baby will arrive "early next year," don't expect to hear about the sex — not even they want to know! Mel, who says she and Thomas have started considering names, explains, "We will be happy if we have a boy or a girl and we won't find out before [the delivery]."
Source: Echo