Milo William is the Only Man in Liv Tyler's Life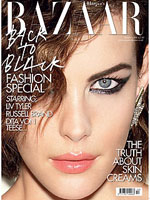 Courtesy Harper's Bazaar
Since splitting with husband Royston Langdon, actress Liv Tyler is emotionally adrift, telling the October issue of Harper's Bazaar UK she feels as though she is "walking down the road with nowhere to go." Fortunately, the couple's 3 ½-year-old son Milo William keeps her from walking that road alone. "For the first time in my life I don't really know [what's ahead]," she says. "I am just trying to take one day at a time and be the best mom I can." When asked in the interview whom she last kissed it's clear that Milo, for now, is the only man in Liv's life. "I kiss Milo on the lips all the time, but I haven't had a kiss, kiss for a very long time," she says. Milo recently graduated to a big boy bed and he's taking full advantage of his newfound nighttime mobility — by crawling into bed with mom, Liv reveals.
"[It's been] really cute, except that I don't sleep because I just stare at him and start crying because he's so beautiful and so sweet."
Milo is the only child for Liv, 31, and Royston, 36, who separated in May.
Source: Harper's Bazaar UK