Kyle MacLachlan and Desiree Gruber Show Off Callum Lyon!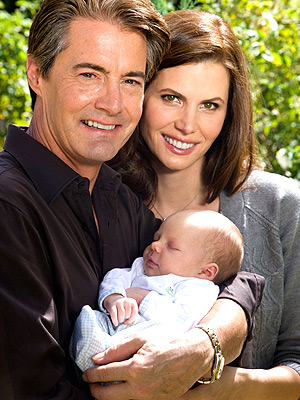 Greg Gorman for use on CBB
Becoming parents — at 41 and 49, respectively — was a long time coming for Project Runway executive producer Desiree Gruber and actor Kyle MacLachlan. By the time son Callum Lyon was delivered by c-section on Friday, July 25th, the couple had been married six years, weathering miscarriages and Desiree's thrombophilia in an effort to welcome a child.
Callum — whose first name was pulled from a baby book, while his middle comes from Desiree's maternal grandfather — is now a "calm" 7-week-old with a "thoughtful, zen-like presence," says dad. "He's not an obsessive crier," the Desperate Housewives and Sex and the City star explains, although that may be due to Kyle's technique! "I'm a good swaddler. The secret is to use him like a rolling pin!"
Click 'More' to read about Kyle and Desiree's decision to have a baby, how they feel about each other as parents, and the implications of being an older father.

On the decision to try for a baby:
K: "I felt we'd know it was right when it was right. And I suppose it'sa typically male thing, but I wanted to know I was going to have steadyemployment! It's hard as an actor, but it's important to me.

Desiree is younger. And it was never something that I felt compelledto do by a certain time. I never felt that my life was not completewithout a child. I don't know if that as a younger man I'd have had afull appreciation for it."
On getting pregnant:
K: "We'd started working on it. Desiree had a couple of miscarriages so she was [seeing] a few specialists. She had thrombophilia— a tendency to form blood clots — and had to give herself aninjection of blood thinner every day. The journey to get her pregnancybecame an adventure. Then when she became pregnant, something a littledeeper was going on. Then it became a process of discovery. You havethis desire to say 'hello' to this little being … it's like waitingfor Christmas."
On the delivery and becoming parents:
K: "He was delivered by c-section. I filmed it, and part of it is video of the floor! You just can't believe it. He was beautiful. It's almost like a new channel opens up. You're looking at himgoing, 'Wow this is something we created. This is life. It's so perfect.'"

D: "There are times when we're standing over his crib, waiting for him to wake up."

K: "I've become one of those annoying people encouraging others to doit! Marcia [Cross] used to say, 'Kyle, it's the most amazing thing.' And you'relike, 'Yeah, yeah, I'm happy for you. Next!' Then you see what they'reall saying. Becoming a parent expands you as a human being. I am havingthe most wonderful time. You've married, but the addition of a childstrengthens and deepens everything."
On sharing news of the birth with Desperate Housewives and Project Runway friends:
K: "Marcia was obviously thrilled because she had gone through theexperience of having twins. Everybody was really thrilled. Callum wasborn Friday July 25th and my costar Ricardo Chavira's daughter Belenwas born on Monday. I said, 'Now we'll be talking diapers and how toswaddle.'"

D: "They've all sent gifts. Amazing. Eva [Longoria Parker] sent flowers. Felicity [Huffman] sent a gift to me."

K: "She's got her own line. She's got a bolster for the neck fornight-feeding which is a really clever idea. It's something she thoughtup and created."

D: "Heidi Klum is a very good friend. I was at the hospital for thebirths of two of her three kids, and I've learned a lot from her."
Kyle on Desiree as a mother:
K: "Amazing. She's another person now. She's a mom to this little man.He depends on her. I'm just the support system. It's all about mom. Ijust love to see them together."
Desiree on Kyle as a father:
D: "If he says he is going to do something, he does it 100%. We waited along time. This was a big decision; I think we both knew what we weredoing. He's become much more of a protector, wanting to be here andtake care of us."

K: "That's true. It's like suddenly the membrane that surrounds what isnow the family has become more important to me. I do feel like we're ina little bubble."
On being a mother and working woman:
D: "I love what I do. I loved that my mom worked. I remember her cominghome very fulfilled and sharing with us all that she knew. I hope thatI can bring that to my son. I'm very lucky that I have my own company,so Callum has a crib on both coasts. He's going to have a little bit ofa jetset life. He'll be coming to the office and making executivedecisions!"

K: "When it becomes important for Callum to be in a place for school andsocializing, we'll sit down and see what makes sense for Callum."
The implications of being an older father:
K: "I'm looking at Callum and thinking, I need to be more consistentabout taking care of myself. We're going to be throwing baseballs so Iwant to be pretty healthy and active. When he's 20, I'll be 70 yearsold.

Looking at 70 from 49, I don't see it slowing me down. Maybe I'llneed a nap during the day! I'm thinking when I'm 85 I'll settle down abit. But I'm going to fight, kicking and screaming, every step of theway."
Source: PEOPLE, September 22nd issue; HELLO!, September 9th issue