Happy Birthday Jayden James and Sean Preston Federline!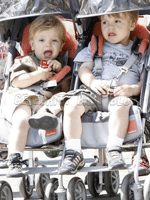 Flynet
Happy Birthday Jayden James Federline and Sean Preston Federline. You are now 2 and 3 years old!
Names: Jayden James 'J.J.' Federline and Sean Preston 'Preston' Federline
Birthdays: September 12th, 2006 and September 14th, 2005
Famous for: The Federline boys are famous for being the sons of Britney Spears and former husband Kevin Federline. They were born less than a year apart and currently live with their father in Los Angeles, while Britney has visitation rights.
Click 'More' for photos and stories relating to the little boys who have captured the hearts of CBB readers.
What they said:
Photos: