DuneCraft's I Love You Bean Terrarium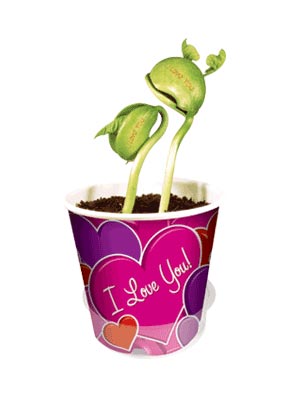 I Love You Bean Terrarium
The best party favor we've ever received was a recycled yogurt container with a small carrot sprouting out from it. I managed to water it and it grew and grew and unfortunately, did not taste good. Sort of a disappointment.
Along the same lines (but not disappointing) is DuneCraft's "I Love You" Bean Terrarium– a great little gift and a lesson in botany all rolled up in one. Open the paper cup planter, assemble the terrarium, plant the lima bean seeds, water and watch with amazement as the lima beans sprout and reveal their "I Love You" message. You can actually eat the beans too (just don't tell your kid it's a lima bean). At $7 per planter, it makes an inexpensive pick me up or stocking stuffer.
Manufactured and assembled in the US, the "I Love You" terrarium is available in specialty stores nationwide, select chain stores, through catalogs, and online. They also sell Dora the Explorer, Diego, Backyardigans, and Spongebob Squarepants versions but without the text on the sprout.