Christopher Meloni: He Actually Works!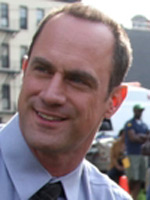 BauerGriffinOnline.com
Actor Christopher Meloni usually stars in projects — such as Oz and Law & Order: Special Victims Unit — that his children, Sophia Eva, 7, and Dante Amadeo, 4 ½, are not allowed to watch. That's the main reason that he wanted to star in Gym Teacher, a Nickelodeon Original Movie that his kids liked because of the "physical comedy stuff." Chris jokes,
"That's why I took the job, to prove to them that I actually work for a living."
Gym Teacher premieres tonight at 8 p.m. on Nickelodeon.
Source: TV Guide