Check Out Our Updated Who's Due Next Gallery!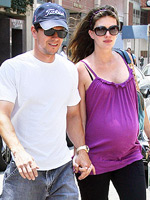 LK/Flynet
With the baby boom this past week (Laila and Curtis! Minnie and Henry! Natalie and Luke! Tony and Adrian and Ariana!), it was time to update our Who's Due Next gallery. We've replaced older photos of your favorite moms-to-be, including Naomi, Jennifer, and Rebecca, with some new belly shots, and added slides for more recently announced expectant moms, like Vanessa, Brooke, and Angie.
If you're ready to count down to the due dates, click here, or look for the gallery on the right sidebar. So, who is due next? Rhea Durham, expecting her little boy on September 21st!