Brooke Burns' Most Embarrassing Mommy Moment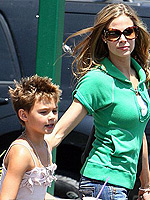 John Calabrese/Pacific Coast News
Dating as a single mom is something Brooke Burns says she does "very carefully." The 30-year-old co-host of Hole in the Wall has been in a steady relationship "for a while" with someone not involved in the entertainment industry, and reveals that he's "great" with her 8-year-old daughter Madison Elizabeth. "It's very difficult not to have her as a part of that because, in dating someone, [Madison's opinion] is a huge criteria," Brooke tells MomLogic. She goes on to cite the loss of spontaneity as one of the biggest surprises of new motherhood, noting that it's hard to pick up and go with baby in tow — for many reasons!
"You have to get the diaper bag and the diapers and the baby, and make sure they're dry, and then they spit up on their clothes. And so you have to change their clothes, and you forgot to get the milk from the fridge, and then they poop in their diaper right as you're putting them in the car seat!"
Bodily fluids factor into Brooke's most embarrassing mommy moment, as well. On an audition for a hosting job (and sitting across the table from a team of television executives!), Brooke was wearing a red silk dress and feeling "really good" about herself when disaster struck. "I looked down…I was breastfeeding at the time, and I had huge milk stains on the red satin," Brooke recalls with a laugh.
Madison is Brooke's daughter with ex-husband Julian McMahon.
Source: MomLogic
What's your most embarassing mommy moment?