Tons of Love (and Kids!) At Sara Evans' Home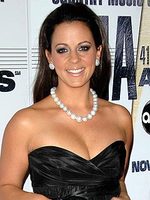 Peter Kramer/AP
In a new interview with OK!, country singer Sara Evans raves about married life with Jay Barker, whom she wed in June. A big part of the appeal involves Jay's "natural" ability to parent not only his own children — Andrew, Braxton, Sarah and Harrison — but also Avery Jack, 9, Olivia Margaret, 5 ½, and Audrey Elizabeth, 3 ½, Sara's three children from a previous marriage. "He's one of the most amazing fathers I've ever been around," the 37-year-old former Dancing With The Stars contestant says. "He's very patient. He's the kind of guy that coaches, he's a mentor to children … He's very hands-on." But the praise doesn't end there! Adds Sara,
"He's very maternal. I don't know if that makes sense to say about a man, but he just knows what to do with children, whether it's cooking for them, bathing them or teaching them lessons. I feel so blessed on behalf of my children that they get to have him as their stepdad."
There is "tons of love and tons of joy" at the couple's home in Birmingham, where they moved so that the extended brood can spend as much time together as possible. The goal, Sarah says, is "to try and blend it, and when they look back on this and they're adults, they'll literally feel like they came from a family of seven kids."
Source: OK!