Meg Ryan Calls Adoption a Metaphysical Labor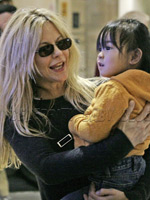 Bauer Griffin
In a new interview with the Los Angeles Times, Meg Ryan opens up about the day she came to know Daisy True, 3 ½, whom she adopted from China in early 2006. Already mom to Jack Henry, 16, Meg says that adoption is something she "always thought" she would do. "It's such a deliberate act, this adoption, as opposed to getting pregnant sometimes," the 46-year-old actress says. "You have to be very, very awake." While Meg waited for over an hour in a restaurant in Shanghai, Daisy was one floor below, growing increasingly upset. When officials finally introduced mother and daughter, Daisy "had tons and tons of clothes on her, Teletubby long underwear, another layer, then this electric blue sweater," Meg recalls. "She was red-faced, screaming and crying." When placed in Meg's arms, however, Daisy was instantly calmed.
"She checked me out and then she went to sleep. The next six to eight hours, she'd wake up and be very afraid and then she'd cry and then relax and play with you. I'd do the same thing. Just get really afraid, then really expanded. It was this metaphysical kind of labor, this crazy meeting."
Meg — who still carries in her wallet the first photo of Daisy sent to her by the orphanage — dismisses the notion that she somehow saved her daughter. Instead, she believes that she was always meant to be Daisy's mom. "I just saw that face and I knew we were just related," she says. "[Adoption] taught me a lot about any expectations you have in life. Just toss them away. Throw them out."
Source: Los Angeles Times