Fatherhood is Working Out For Matthew McConaughey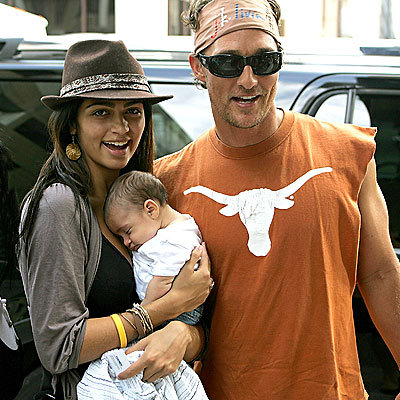 Gary Miller/Getty
Some things really are meant to be! In a Wednesday night appearance on The Tonight Show with Jay Leno, actor Matthew McConaughey explained again how he and partner Camila Alves arrived at the name 'Levi' for their son Levi Alves, 9 ½-weeks. According to Matthew, if their child was to be a boy, Camila wanted him to be named Matthew Jr. Matthew, on the other hand, wanted something "a little bit different and original" so he proposed Levi, another name for the apostle Matthew in The Bible. As they neared Camila's delivery, the couple had four potential 'boy' names picked out — but the timing of Levi's birth sealed the deal. Says Matthew,
"A favorite Bible verse, for me, is Matthew 6:22. Well here comes Levi…we clocked it, and he came at 6:22. We were like, 'Whoa, okay, I guess it is Levi!'"
Reaching fatherhood "took 38 years, but it worked out" Matthew said with a smile, noting that "practice is good, practice is fun." He went on to tell Jay that he is an active participant in diaper duty.
"Diaper changing is not a big deal. When they're not aiming and they're doing a #1, and it hits you right in the face, then that's kind of a big deal. But no, the diaper changing…that's not too troublesome."
To make the process a little more interesting for Matthew, Jay offered him a 'diaper launcher' — which Matthew proceeded to use in firing a diaper into the audience, exclaiming "this is good for the neighbor you don't like." Matthew said that while he hasn't ruled out having more children in the future, he and Camila feel that Levi is "enough for now." As for marriage, Matthew was equally non-committal, telling Jay that the couple "don't have any plans for [marriage] today or tonight…tomorrow is unlikely…but we'll see by the weekend."
Matt's latest film, Surfer, Dude, is in theaters now.
Source: The Tonight Show with Jay Leno