Brendan Fehr Considers Fatherhood the 'Real Deal'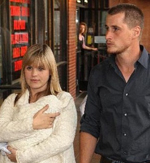 Flynet
Parents all have a different opinion about what the best part of parenthood is, but Brendan Fehr believes that just "being a dad is the best part of being a dad" to five-month-old daughter James Olivia. After his wife Jen gave birth to their daughter — named after Metallica frontman James Hetfield — in March, the 30-year-old actor learned that "too simply be 'dad' is the real deal."
"When you get pure joy out of 'being' rather than 'doing' or 'seeing,' that's when you realize how big and unexplainable some things are and being a dad is one of those very few things."
James is the first child for Brendan and Jen. Brendan can now be seen in the mini series Samurai Girl, airing on ABC Family.
Source: Media Blvd; PEOPLE