Teri Hatcher Says Column Taken Out Of Context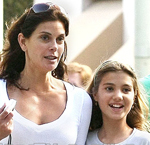 Fame
The media's handling of an advice column written by Teri Hatcher to her daughter Emerson Rose, 10 ½, for British Glamour has drawn the ire of the 43-year-old actress, who is speaking out in her own defense.
In the column Teri offers a humorous introduction where she shares the things she'd yell out to Emerson if she had just moments to live, including — as has been widely reported — "eat the chocolate" and "have great sex." Teri then immediately laments having squandered the hypothetical opportunity, however, and writes "that's not what I wanted my daughter to know, at all." The column goes on to give Emerson more traditional advice, such as treat others as you would like to be treated, be a good friend, be honest with yourself and others, and more — but those life lessons for the most part went unreported. That the media chose instead to focus on "sex and chocolate" has left Teri feeling slandered, she tells Entertainment Tonight, as well as "egregiously" accused of "horrible parenting." She adds,
"I have done nothing in my life and in my celebrity life but vocalize how important parenting should be to each and every one of us."
For its part, the magazine issued a statement decrying the coverage of the column. "We are disappointed that the true meaning of the column written by Teri, which is always heartfelt and thought-provoking, has been twisted in this way in order to manufacture a headline," Jo Elvin, editor of British Glamour, says. "In fact Teri's article suggests quite the opposite."
Source: Entertainment Tonight