Nicole Ari Parker, Boris Kodjoe Fundraising For Spina Bifida Study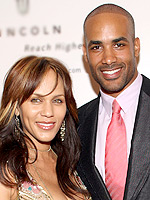 Frederick M. Brown/Getty
Late last year, Nicole Ari Parker and Boris Kodjoe revealed that their eldest child — 3 ½-year-old Sophie Tei-Naaki Lee — suffers from Spina Bifida, a developmental birth defect which results in an incompletely formed spinal cord. Now the couple are reaching out to family and friends with the hope of raising funds for a special surgical study that might hold the key to curing their "miracle child."
Since her birth, Nicole and Boris have provided Sophie with round-the-clock care. Although her symptoms are less severe than others with Spina Bifida, she does require special assistance as a result of a spastic bladder, including catheterization every three hours to prevent urine backflow into her kidneys. Frequent catheterization often causes urinary tract infections, however, resulting in the need for antibiotics that can disrupt the flora balance of the bowel — leading in turn to more infections. Writes Boris on his official website,
"It's a never ending cycle and the prognosis from specialists all over the world is a life long dependency on catheterization and diapers, unless we'd agree to a bladder augmentation, which is quite risky and not a way we want her to live. While being a simple body function for able-bodied individuals, these activities may take hours for children with Spina Bifida."
Click 'more' to read about a surgical procedure yielding "astonishing results" for children like Sophie.
Through the Spina Bifida Association of Georgia, Nicole and Boris learned that a physician in China has developed a technique for surgically re-routing nerves from the legs to the bladder, so that the bladder eventually learns to empty itself. According to Boris the surgery — known as the Xiao Procedure — has been carried out "with astonishing results" both in the United States and abroad. As a result, officials at several Atlanta-area hospitals and universities have banded together to supervise the first phase of a surgical study of the Xiao Procedure, which will involve 10 children at a total cost of $1.88 million. Writes Boris,
"This has been Nicole's and my priority, and now this procedure can change a lot of families' lives. But the first phase of this surgical study is not funded, and therefore we are in this alone. Based on a successful outcome of phase one, phase two and the surgical study of 100 more children would receive federal funding…Please, please, please give as much as you possibly can to help make this a reality for thousands of families and their children affected by Spina Bifida."
Nicole, 37, and Boris, 35, are also parents to 22 ½-month-old Nicolas Neruda.
For more information on the Xiao Procedure and to find out how you can contribute to the first phase of the surgical study, click here.
Source: Boris Kodjoe Online