Jada Pinkett Smith Says Stepson Is a Gentleman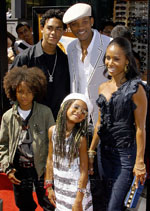 Splash News
Jada Pinkett Smith says motherhood is keeping her on her toes — and her toes on a surfboard! Admitting that, at 36, she might be "past the time" that she should be surfing, during a recent family trip to Hawaii Jada nonetheless gave it a shot at the urging of her two children Jaden Christopher Syre, 10, and Willow Camille Reign, 7 ½, both of whom took up the sport this summer. "[Jaden and Willow] were like, 'Mommy, we're gonna learn how to surf," Jada recalled during a Tuesday night appearance on the Late Show with David Letterman, "Just do it!" Jada's husband Will Smith, meanwhile, isn't a fan of the water so he spent his summer "clapping on the beach," she says. Will is taking a break from acting in order to develop film projects for the family — with mixed results, Jada shared. "Now we all have to sit around the table, Jaden, Willow and myself, and he's like 'Okay, what do you guys want to do?," she revealed.
"We're having all these excruciating meetings about these movies and projects for the family that he wants to develop. And I guess, you know what, that's a beautiful thing that he wants to do that. But Jaden's kind of like, 'Alright dad, alright already. I'm done with that!'"
Will's son Trey, 15 ½, doesn't appear to have the acting bug — yet — but he's got plenty to keep him occupied between his football team, learning to drive and a busy social life. Jada recently rode along on one of Trey's dates, and was encouraged by what she saw. "I got to pick him up from a date the other day, from the movies, and he's driving now which is a scary thing," the actress explained. "So he drops this really nice young lady off and he gets out of the car, opens the door and walks her to the front door and gives her a hug and comes back."
"It was a beautiful moment, because I got to see a young man going into a transition of manhood, and I had to look at him and just tell him how proud I was of him, to just be such a gentleman. I'm sure he was just doing that because I was there, but that's fine. I felt good about it."
Jada's latest film, The Women, is in theaters on Friday.
Source: The Late Show with David Letterman