Growing Up McCain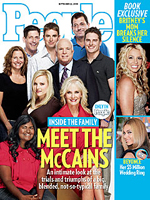 Courtesy PEOPLE
In this week's issue of PEOPLE, Republican nominee for president John McCain and his family pose for the cover and discuss the ins and outs of their household. Posing with children Doug, 48, Andy, 46, Sidney, 42, Meghan, 23, John, 22, Jimmy, 20, and Bridget, 17, John and wife Cindy open up about life in Phoenix and the family's house rules. Although the children are older now, Cindy explains that she still expects the kids in their teens and 20s to check in!
"If you're home and going [to be] out after midnight, you have to calland check in with me. I want to know you're safe. Just because you're24 and on your own doesn't mean I don't worry about you. And if you usethe car, fill it up when you're done. It drives me nuts to find anempty gas tank and everyone gone."
For more on the family, head over to PEOPLE.com for exclusive online excerpts. Photos and a full exclusive interview hits newsstands on Friday. For more election coverage, check out Growing Up Obama and Sarah Palin Talks About Her Family Struggles.
What are some of your house rules?