Dannielynn Birkhead Celebrates Her Second Birthday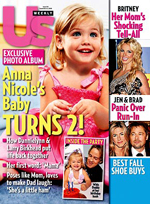 Courtesy Us Weekly
Two years after the big custody battle between her father Larry Birkhead and Howard K. Stern, little Dannielynn Hope was all smiles as she celebrated her second birthday on September 7th. Sitting on her dad's lap to blow out her two candles, Larry can't help but think she bears a striking resemblance to her mother, the late Anna Nicole Smith. Aside from the looks, Larry also reveals that she has also inherited her mother's grace in front of a camera, including checking herself out in the glam shots after they are taken!
"When I take pictures of her, she likes looking at them just like her mom did."
Last winter, Larry opened up about Dannielynn's diagnosis of strabismus — a medical condition that causes one eye to turn inward. While Dannielynn underwent a successful surgery back in February, it is possible that she will require another operation in the future, which has Larry very nervous. When Larry — who admits to being "medically paranoid" after the tragic death of Anna and her son, Daniel — wound up in the hospital in July due to kidney stones, he began to view "life in a different way" as he realized "if something happens to me, Dannielynn is by herself. I'm all this little one has left." Fortunately, Dannielynn — who loves to go shopping with her dad — is doing great as Larry uses a patch to "make sure her eyes stay equally strong."
Source: US Weekly