NHL Player Ryan Kesler To Use Daughter As On-Ice Motivation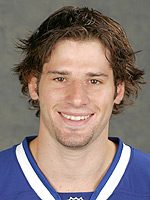 Getty
Getting under the skin of his opponents is the specialty of hockey player Ryan Kesler, and this season those opponents should prepare themselves for even more of his antics now that Ryan is a first-time father. Ryan and his wife Andrea welcomed Makayla Rylynn, 3 ½-months, on May 15 and Ryan jokes that his daughter will factor into his game play for the Vancouver Canucks. "I used to be a little pesty at home with my wife and get under her skin a little bit," the 24-year-old centerman says. "Now I might be a little more pesty on the ice and take out some of my frustrations if [Makayla] won't stop crying in the middle of the night."
Fortunately for the other players — and Ryan and Andrea! — it doesn't sound like he'll have much to leave him frustrated.
"It's awesome being a dad, you can't really describe the feeling when you first see her…She's rolling over and smiling all the time. She never cries. She's just like her mom."
Source: The Vancouver Sun
Thanks to CBB reader Brooke.