Naomi Campbell Talks Babies, Shows Support for the White Ribbon Alliance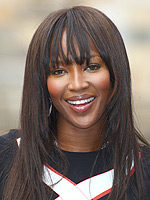 Mike Marsland/WireImage/Getty
The next celebrity pregnancy you may hear about just could be supermodel Naomi Campbell's. The 38-year-old is seriously considering motherhood and revealed that up until March of this year, she was not able to conceive. This spring, she underwent a surgery in which doctors thought they'd find a cyst, but "when they opened it up they realized it was more." Now that she has recovered from the operation, Naomi says that she would "love to have a family," but is also aware that "it's in God's hands" now.
Naomi is taking her love of children further and is participating in a fashion show that will raise funds for the White Ribbon Alliance. The WRA was "formed to promote increased public awareness of the need to make pregnancy and childbirth safe for all women and newborns in the developing, as well as, developed countries." The reason that Naomi felt called to join in this fund raising effort was simple to her.
"As a woman myself that wants to have kids it's a given that I'd want to be involved in something like this. I love children. Giving birth is bringing a new energy into the world."
Source: The Press Association