Milla Jovovich Shops for Her Princess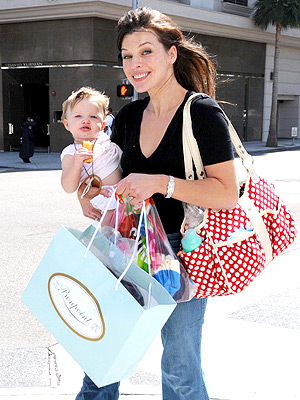 Marquos Vasquez/Ramey
Actress and model Milla Jovovich hits the shops — from uber-expensive (Bonpoint) to more affordable (Gymboree) — with 10-month-old daughter Ever Gabo on Monday in Beverly Hills. Dad is director Paul W.S. Anderson.
Milla carries a Mia Bossi Caryn diaper bag in Cherry Fizz ($300).
In the diaper bag is a Born Free Trainer Cup in green ($10).
Ever wears Dr. Bloom's Chewable Jewelry Rectangle Slide ($20, includes bracelet), gifted to her in Jewels & Pinstripes' New Girls in Tinseltown gift bag.