Jodie Sweetin Blogs About Baby's First Cold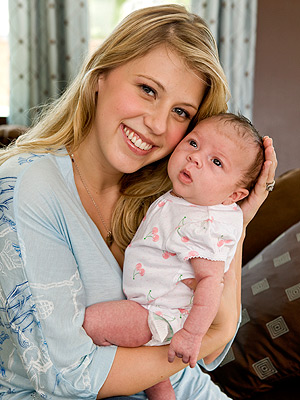 Marc Royce for use on CBB
This was one milestone that Jodie Sweetin was not looking forward to reaching! In a new blog entry for OK!, the 26-year-old actress shares that daughter Zoie Laurelmae, 5 months on Friday, is battling her first cold. Noting that it was "bound to happen" sooner or later, Jodie reveals that Zoie's sniffles have necessitated not one, but two trips to the doctor already!
"It's so hard to be a mom and see your little one not feeling good and know that there's really not much you can do except wipe their nose and give them extra hugs."
While it's unlikely that baby's first cold is something Jodie and her husband Cody Herpin will want to remember, there are plenty of happier memories that the couple have been documenting in the scrapbook they've started for their daughter. "It's really turning out cute," Jodie says.
"While I was out running errands the other day, Cody did a page for her and put it in there. I think it's something she'll really enjoy looking at when she gets older."
Zoie is the first child for the couple, who married in 2007.
Source: OK!