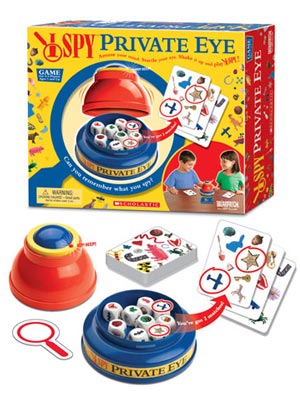 Briarpatch's I Spy Private Eye
Memory games are great for the developing mind of preschoolers, but the traditional format of matching upside-down cards flipped over one at a time can get tedious and boring. If you have a child with a short attention span, like our son, it's difficult to see a game through to the end. That's why I really like Briarpatch's I Spy Private Eye ($25). This fresh take on the classic memory game concept involves nine picture cubes displaying images like acorns, leaves, seashells (and much more!) that you are able to study for 30 seconds before they are covered up. Your child then pulls a card from the stack and points out every item which was displayed on the cubes. For every image correctly identified, they score a point!
I Spy Private Eye is recommended for children aged five and up. If you're playing by the complete rules, which allow for challenges, I think it's a good age recommendation. Our 4 ½-year-old son isn't quite old enough to grasp the 'challenge' concept, but we were able to adapt the rules to suit his age. He loves the surprise of seeing which picture cubes are showing when it's time for the big reveal — enough that he wants to continue playing round after round, which makes this game a winner in our house. I Spy Private Eye is suitable for 2-4 players.
– Missy