Happy Birthday Ava Phillippe!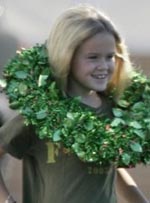 Flynet
Happy Birthday Ava Elizabeth Phillippe. You are now 9 years old!
Name: Ava Elizabeth Phillippe
Birthday: September 9th, 1999
Famous for: Ava is famous for being the first child and only daughter of actors Reese Witherspoon and Ryan Phillippe. While the couple is now divorced, they share custody of Ava and her younger brother Deacon Reese, 4 ½.
Click 'More' for stories and photos of the little girl whose father calls her "beautiful and amazing."
What they said:
Photos: