NFL Player Shaun Alexander, Wife Expecting Fourth Child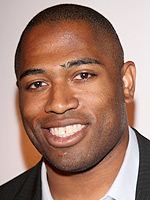 Steve Mack/FilmMagic/Getty
Star running back Shaun Alexander, 31, and his wife Valerie are expecting their fourth child in March. The couple are already parents to three daughters — Heaven, 4, Trinity, 3 and Eden, 1, and if Valerie is feeling any pressure to deliver a boy it's not coming from her husband! In a new interview with Seattle P-I Shaun reveals,
"I hope it's another girl, but she wants a boy."
Shaun, the 2005 NFL MVP, is currently between teams having been released from the Seattle Seahawks in April.
Source: Seattle P-I