Mel B Not Worried About Fame, Just Family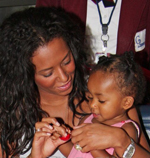 Bauer Griffin
Melanie Brown, aka Mel B., isn't worried about being rich and famous, she just wants to be a good mom to daughters Phoenix Chi, 9 ½, and Angel Iris, 17 months. That's the reason that Mel moved to the United States from England so she could "enjoy being a mum and not have any stress." While she does miss some things about the UK, the Dancing With the Stars alum can't see herself moving back, especially since her daughter Phoenix has lived in the United States for "most of her life" and that she "wouldn't uproot her." The family does go back "at least four times a year … so [the kids] can get together with Grandma and Grandad."
The 33-year-old has spent enough of time in the limelight to be excited that "Phoenix isn't a showbiz kid," saying that "she's really into sport" and "hasn't shown any signs of wanting to dance or sing." Mel considers her oldest to be "an average nine-year-old" but admits that she isn't sure what her daughter will do with her life but "she's got a long time before she needs to decide what to do."
Mel "love[s] all of my body" and knows that she has to "because I've only got one body." That's why after her pregnancy with Angel — where she craved "chicken and roast potatoes" — she decided to live a healthier lifestyle for herself and her family. She wanted to eat more healthily so she "stepped everything up."
"Instead of walking across the beach, I'd run across the beach … And when you've got a small baby you're running around all the time anyway. I also had Dancing With the Stars starting, which seriously kicked my behind into gear."
Mel has been married to her husband, movie producer Stephen Belafonte, since June 2007. Phoenix's father is Jimmy Gulzar and Angel's is Eddie Murphy. Stephen also has daughter Giselle, 4 ½, from a previous relationship.
Source: Mirror