Jerry O'Connell Jokes That Rebecca Romijn is 'Huge,' Apologizes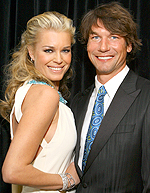 John Shearer/WireImage
Update: A contrite Jerry tells CBB/PEOPLE.com that although the comments were made in jest, he'd still like to clarify his remarks:
"I regret calling my wife huge on Conan O'Brien. I meant to say that there are specific areas of my wife that are larger than normal and growing everyday. All other portions of my wife are quite petite. I apologize to her and will be coming home with flowers."
Originally posted 9 a.m.: Foot-in-mouth syndrome is something most expectant fathers will suffer from at some point, and Jerry O'Connell is no exception. With his wife Rebecca Romijn due to deliver the couple's twin daughters in January, Jerry says that — at five months pregnant — Rebecca is already sporting a bump so sizable it can leave him at a loss for words. When he does find the words, they're often wrong!
"I'll look at her, and I will go, 'My goodness….you are huge!'" Jerry laughingly shared during a Friday night appearance on Late Night with Conan O'Brien. Conan — himself dad to Neve, 4 ½, and Beckett, 2 ½, with wife Liza — informed Jerry that while it might be literally true, it also might not be something Jerry should verbalize to his wife. "I just say [to Liza], 'Baby you look beautiful…You don't say, 'Oh you're huge!'" Conan says he also takes issue with the notion that Rebecca — or any pregnant woman — glows. "I don't know why they always say glowing, I've never seen a pregnant woman who glows. No, short of living in a nuclear reactor, they don't glow," Conan joked.
Jerry and Rebecca made no secret of their desire to have children, and Jerry admits that the couple had been trying for "a little while" before they conceived the fraternal twins. While their efforts began as "a lot of fun," Jerry says that after months of not getting pregnant the process took on a different vibe entirely. "It becomes a little more like a timetable…A few days a month, it becomes like, 'Come on let's go!'" Jerry explains, "Light a candle, do something! Put on the Kenny G! Now's the time! Go go go go!"
The girls will be the first children for Jerry, 34, and Rebecca, 35, who married in 2007.
Source: Late Night with Conan O'Brien