Gael García Bernal and Girlfriend Expecting a Son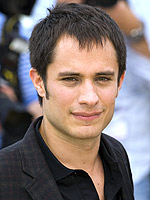 Update: According to director Fernando Mereilles the couple are expecting a boy. Fernando went on to say,
"He's a nice guy. He's warm — that's all a dad needs to be, right? He's very loving. He has this energy – this love energy. He's going to be a great father. He's so excited. He's really taking time to prepare himself. He's really looking forward to it."
Gael — who says "life is good" — told OK! that "everyone's reaction is the same," and that he is "glad like every father."
Originally posted August 14th: Despite a denial in May, reps for actors Gael García Bernal and Dolores Fonzi, 30, have confirmed that the couple is expecting a child in early 2009. A statement from Gael's production company Canana Films read:
"After so much speculation and comments, [Dolores and Gael] are indeed expecting a baby at the start of next year."
The Y tu mamá también and Babel star, 29, founded Canana Films with close friend and co-star Diego Luna, who welcomed his own child, a son, two days ago.
Source: AFP; Photo by Nick Sadler/StarTraks.
Thanks to CBB reader Cat.