Elaine Lordan Says Losing Son Gives Her Perspective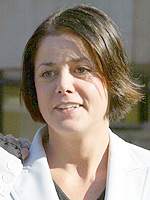 Gareth Cattermole /Getty
The unimaginable grief following the death of a child is something that Elaine Lordan knows all too well, for the 42-year-old former EastEnders actress lost her son James Garrett in 2005 at the age of 12 months. For a time, Elaine admits that the home she shares with husband Peter Manuel "was becoming like a shrine and getting silly," but now the couple display "just a few photos" of James. Although they only spent a year with their son, he has forever changed their perspective on life, Elaine says.
"We will never forget him. I think about James all the time…He taught us about other people, and how much worse off so many other people can be."
James — who died of complications from a congenital diaphragmatic hernia — was "a really happy baby" who "rarely cried," Elaine says. The couple had saved up a considerable sum of money for medical procedures James would eventually need in order to correct the birth defect; together, Elaine and Peter decided to donate the funds to four children in Third World countries who needed cleft lip surgery. "We really wanted to do it for James," Elaine says. While she sometimes finds herself studying 3-year-olds, "wondering what [James] would have been doing" had he lived, Elaine says that "the old cliche about time being a great healer really is true." Unfortunately, it wouldn't be Elaine's only brush with loss.
Click 'more' to read about Elaine's miscarriage, and why she says she won't have more children.
One year after the death of their son, Elaine and Peter decided to try for another baby and were thrilled when Elaine easily became pregnant. Their happiness again turned to sorrow when six weeks later, Elaine miscarried. "I don't want to try for any more children…I had a miscarriage and I am 42 now," she says. "Anyway, I think I would be too embarrassing if I turned up at the school gates. All the other mums would be young and there would be me looking like a gran!"
Elaine says that, instead, she feels "blessed" and "incredibly lucky" to enjoy a good relationship with Peter's three children from a previous relationship.
"They joke and call me the wicked step-mother but I am more like a big sister to them, particularly to the girls. They come to stay regularly and we go on holiday a lot with them. It's nice."
Source: The Mirror