Bumbleride Indie Twin: A Sleek and Stylish Side-by-Side Ride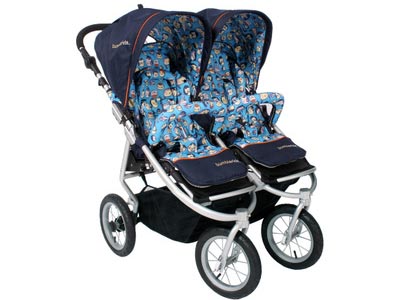 Bumbleride Indie Twin
You know you have a great double stroller when even the squirrels in the park are looking a bit jealous. When I was standing at the playground with my children and spotted an excited little squirrel right in the new Indie Twin stroller by Bumbleride (in the limited edition Bwana print — the one you see in the opening picture) I knew I had a keeper.
Okay, I don't pick strollers based on the opinion of one squirrel. It takes at least a couple of them to sway me. Kidding. But pushing around a stroller as cool as this one certainly makes heads turn. So it was no surprise for me to spot that little squirrel thinking he'd found himself a new set of wheels. And if you saw how fast I ran over to chase him out of 'MY' stroller, well, you'd know just how much I love the Indie Twin.
I'll be the first to admit, I was a little nervous about using a double stroller. They always seem so big and clunky looking. And I'd never in my life seen one that actually looked good. But I have two kids now. So for the times when I'm giving my back a break from all that babywearing, I needed something. And, wouldn't you know, the Indie Twin ($589 for most colors, $689 for the Limited Edition Bwana print) is the exception to every double stroller 'rule' I'd ever imagined.
First of all, it's incredibly light and narrow for a side-by-side double stroller — only 34 lb and 29 inches wide — which means it fits easily through most doorways and is simple to maneuver on the sidewalk, even on garbage day, and even with one hand! I was actually showing off to a friend as we walked together: 'Bet you don't think I'll fit through this space… watch!' The Indie Twin surprised us every time. And when you do have to move around a wayward garbage can, the Indie Twin turns on a dime.
Folding the Indie Twin isn't hard, but it is a bit involved. I happen to have enough storage space to leave my Indie Twin set up all the time. The only disadvantage is that when it occasionally comes time to fold it, I really don't know what I'm doing. But after a quick refresher with the instructions or the informative video on their website (or even a call to my husband — who has a far better memory than I do) I'm always good to go. And unfolding is simple — just pull up on the handlebar and it pops right open. There's nothing to lock the stroller in a folded position, though, which can be somewhat awkward if you're trying to move the stroller when it's folded.
I love that the stroller comes with a universal infant seat adapter — there's no need to purchase one separately. I used it for my daughter when we first started testing the stroller and it was so simple to install and use. The Indie Twin also comes with two footmuffs for chilly winter riding (though my three-year-old is too tall to use the footmuff — in fact, he's a bit long, in general, for the Indie Twin, but he doesn't seem to mind). And there's even a cup holder, which every mom knows is now a stroller necessity. Interestingly, despite all of the inclusions, the Indie Twin doesn't come with a sun cover or a rain cover. The canopies do come very low and offer lots of protection, though.
A bit about the Bwana pattern… I was wary at first. It's admittedly a little louder than something I would normally choose and the Indie Twin comes in some beautiful prints. But I absolutely love it now. (So does everyone I walk past, too!) It's very cool and not the least bit overpowering. And my baby adores it! She's still getting used to the idea of being in a stroller, so it's wonderful to pop her in the Indie Twin and see her laugh and smile at the funny faces. Needless to say, my three-year-old loves the Bwana pattern, too, and is always excited to hop into the Indie Twin so he can find his favorite silly faces. And CBB readers have seen the Bwana print before — Nick Nolte has a Bumbleride Indie stroller in Bwana for his daughter Shanti, 11 months.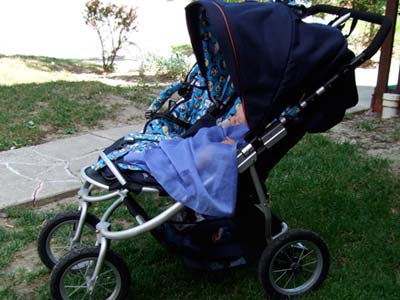 Some more great features: The storage basket under the Indie Twin is huge. Seriously. I can fit so much in it, the Indie Twin is my favorite stroller for jaunts to the park or the grocery store when we need to bring lots with us. The handle adjusts to a number of different heights, so the stroller is easy for everyone to push. The seats are also easily adjustable — individually, too, which is great because it's inevitable that when one child is sleeping, the other is wide awake. Adjusting the seats is a one-handed job, which makes them even better. The front wheels can lock or swivel which means that it's possible to jog with the stroller, too. And the canopies have windows, storage pockets, and can unzip at the back for ventilation.
We've done everything and gone everywhere with the fabulous Indie Twin this summer and we haven't stopped loving it for a second. My only bit of advice to you if you're thinking about getting one of your own: be on the lookout for greedy squirrels.
Bumbleride products are available at www.fawnandforest.com with free shipping.
— Stephanie