Amy Brenneman Finds a Balance Between Family and Work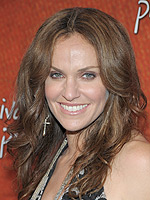 Jordan Strauss/WireImage/Getty
Working mothers are always trying to find an equal balance between their family and their professional career. It's an issue that bothered actress Amy Brenneman when she become mom to Charlotte Tucker, 7, and Bodhi Russell, 3. Amy found herself working 18 hour days on her television show, Judging Amy, and once the show was canceled in 2005 she knew that she could no longer work such a schedule. That's why the 44-year-old was excited when she earned a role on Private Practice. She still has "heavy days, but then I have lighter days and I can take kids to school." That was the only way that Amy would commit to another television show.
"It was either that or nothing because they're so little. I'm not gonna miss the whole thing."
Amy and her husband, director Brad Silberling, 44, have been married since 1995.
Source: Daily News