Suzanne Shaw Foresees Racing in her Son's Future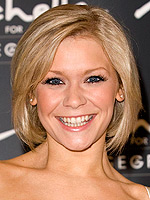 Nick Sadler/StarTraks
Celebrities sometimes don't want their children following in their footsteps, but Suzanne Shaw is not one of them. In fact, if her and ex-boyfriend Darren Day's 3 ½-year-old son, Corey Mackenzie, wants to join the entertainment business she will "just make sure he knows that it's very unpredictable at the best of times." However, Suzanne, 26, thinks that her sons has a different career choice in mind.
I think it's more likely he'll be a racing driver if his obsession with toy cars is anything to go by, but of course I would support him in whatever he wanted to do.
Juggling her acting and singing career along with motherhood is hectic, and the Brit star shares that the only way she can handle it is with her "amazing network of family and friends around me," adding that "my boyfriend JK [Jason King] is fantastic with him." That's not always a good thing though — "They are a little team and sometimes even gang up on me," Suzanne laughs. Thanks to the support of those around her, Suzanne was able to participate in and win the UK reality show Dancing on Ice earlier this year — an experience she found comparable with Corey's delivery, minus one part!
It was the most intense experience of my life, apart from giving birth to Corey, although at times it was more painful than childbirth!
Source: Get Surrey