Jenny Frost Misses Her Pregnancy Curves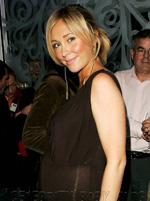 Getty Images
Former Atomic Kitten Jenny Frost is happy that she has lost the 56 pounds that she gained during her pregnancy with son Casper J, 10 months, but she does wish that some of those curves had stayed. Jenny, 30, shared that when she was pregnant she "had this great bottom" and "I loved it — for once, I had curves!" However, after losing the weight the curves that she had learned to love didn't stay, and "now I've got nothing to fill my jeans."
How was Jenny able to lose the weight and return back to her UK size 8 jeans? Jenny simply swapped out pasta and bread for brown rice and sweet potatoes. She also shared that she has no nanny, so her son keeps her on the go but he helps out with her on-the-spot exercises.
"When I'm playing with Caspar, I'll lie on the floor and hold him up in the air, which is great fun for him and works my stomach muscles and arms a treat."
Caspar is the first child for Jenny and her fiancé Dom Thrupp aka DJ Dom T.
Source: Daily Mail