Jane Krakowski: Motherhood is Something I Forgot to Do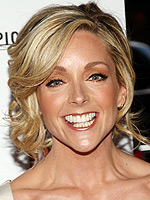 Stephen Lovekin/Getty
With a career that has led her to star in musicals from Broadway to London and hit TV shows including Ally McBeal and 30 Rock, Jane Krakowski recently came to the realization that at 39 years old, she may have missed the opportunity to have a family. "I woke up one day, maybe it was a few weeks ago, and thought, 'Oh, s–t, I meant to do that,'" says the actress who has a steady relationship with British documentarian Marc Singer. While Jane jokes that she feels like "one of those '80s T-shirts that said something like 'Oops, I forgot the baby on the bus,'" in that being a mother is something she "forgot to do and should get on before it's too late," she does admit that when — and if — she has a child in the future, it will not be due to a feeling of obligation.
"It was never a priority and I don't regret that. This may be old-fashioned, but I want a child to be the product of love. But you know, as I get older, I realize that may not be the case."
30 Rock returns October 30th at 9:30 p.m. on NBC.
Source: Page Six Magazine