Howie Mandel Uses Sense of Humor When Parenting His Kids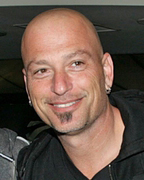 Bauer Griffin
Comedian Howie Mandel — who says his sense of humor "keeps me sane" — knows only too well that when it comes to parenting, sometimes a playful attitude is just what's needed. Remembering a trip to a home store when his oldest daughter Jackie, now 23, was potty training, Howie says that although he had gone with his wife Terry to buy bathroom fixtures, they also scored a new toilet in the process! "The manager came running over to say my kid just used one of the toilet floor samples," says Howie, who remembers feeling "pretty humiliated." The embarrassed father ended up buying the floor sample, as he jokes, "I guess you could say we had already left a deposit."
While Jackie, along with Howie and Terry's two other children — Alex, 18, and Riley, 15 — can count on their dad's outgoing personality, surprisingly Howie is also the disciplinarian of the family. The Deal or No Deal host follows strict curfews for his kids — home by midnight in high school — but also knows as they get older, "I can't tell them what to do anymore. Well I can, but they don't have to listen!" Along with getting older, according to Howie, comes "the rite of passage for teenagers" — rebellion! Admitting that Jackie "broke my heart when I went from being her hero to a total embarrassment for no particular reason," he does reassure parents who may be dealing with the same situations with their own kids, sharing "the good news is they grow out of it!"
Click below to read about Howie's unforgettable trip with his family!
With two daughters and one son, Howie, 52, feels "like my son can take care of himself, whereas my daughters need to be taken care of." When it comes to their education, Howie — who was kicked out of school and never graduated — said that luckily, his kids have not taken after him in that aspect! Joking that he tried to "set the example of what not to do," he credits his kid's studious ways to Terry, as "they certainly didn't get the buckle-down-and-get-good-grades ethic from me." Howie is happy to share that all of his kids are "excellent students," with Riley making straight A's, Alex in college, and Jackie working as a teacher.
When Howie isn't fulfilling his hosting duties, he reveals that the family enjoys traveling, saying the kids "have seen almost all of the fifty states, Mexico, Canada, Australia, and most of Europe." Among their many travels, Howie shares that memories have been made along the way — including an unforgettable day when the family tried to learn how to scuba dive! Says Howie,
"I complained to my instructor that I was cold, and he told me to pee in my wet suit, which I refused to do. 'Don't worry,' he said. 'Everybody does it.' A total germaphobe, I screamed, jumped out of the water and ripped off the wet suit. I spent the next week sandpapering my body in the shower."
Source: Family Circle, October issue.