Gloria Estefan: Emily is the Daughter I Thought I'd Never Have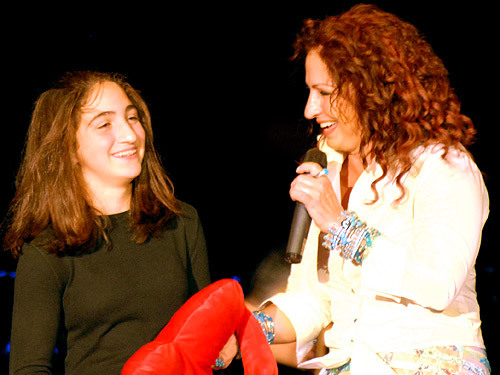 INF
Gloria Estefan knew she was on top of the world back in 1990 — her music career was better than ever and her concerts were sold out worldwide. However, on March 20th of that same year, Gloria — along with her husband Emilio Estefan and their then 9-year-old son Nayib — were faced with one of the most difficult period of their lives when their tour bus was hit by a semi-truck near Scranton, Pennsylvania. With a broken back that required two 8-inch titanium rods to help mend the broken vertebrae, the Cuban singer spent the next six months of her life regaining her ability to walk. Throughout her recovery, Gloria was unaware that her young son was dealing with his own pain as he placed the blame on himself. Gloria shares that Nayib — who had been playing the classic children's game of "Step on a Crack, Break Your Mother's Back" the day of the crash, had been "deliberately stamping on the cracks" and "for ages" believed his actions caused the accident.
With the mental and physical scars associated with the tragedy, Gloria and Emilio were understandably wary of having another baby, but "Emilio desperately wanted a daughter." Once Gloria was given permission from her doctors that it was okay to get pregnant, the couple immediately began trying, only to realize that yet another challenge stood in their way. "It was incredibly stressful. For the first year we just kept on trying, not knowing if anything was wrong," says Gloria. After an invasive exploratory surgery, where doctors found — and repaired — a shifted fallopian tube, Gloria underwent several infertility injections. Soon, Gloria and Emilio found out that they had gotten their wish: Gloria was pregnant. Nine months later, the couple welcomed their second child, Emily Marie Consuelo Estefan.
Throughout her fertility struggle, Gloria received tip after tip on methods to get pregnant, but says the "on your back with your legs in the air method" is what she believes did the trick! The 50-year-old singer was so sure in fact, that she jokes she shared the advice with fellow musician Madonna, who at the time, was also looking to get pregnant.
"Madonna was over for dinner and all we talked about was babies. My baby, the problems I'd had conceiving after breaking my back, the baby she wanted at 37 — the same age as I was with Emily. So I gave her two tips. One, have a pain-killing epidural injection. Two, if you want to help nature, get your legs in the air!"
Click 'more' to read about Emily's involvement with music today — including joining mom onstage!
Gloria shares that she wanted to enjoy her little girl's toddleryears and decided to stop touring and dedicate herself to her family.While Nayib had loved life on the road with both of his parents, Gloriafelt that Emily gained more staying in school as "she is involved inher school sports and activities and I didn't want to take her awayfrom that." However, it didn't take long for Emily, now 14, to catchthe music bug! Calling her daughter "an amazing musician," Gloria saysher farewell tour "has a surprise built up in the show where mother and daughter perform together."For Emily — who plays piano, guitar, and the drums — being on stageis completely her choice as Gloria felt "she was ready and willing tobe a part of my tour for the first time."
"Emily'svery shy, so when she's behind the drums it's kind of protection forher. I would never force her into anything because I was also shy whenI was a teenager."
Celebrating her 50thbirthday and her 30th wedding anniversary, Gloria admits that she is atone of the best times of her life. Saying there is nothing more shecould possibly want, Gloria is simply enjoying "being back on tour –this time with the daughter I once thought I could never have."
Source: Daily Mail