Elisabeth Shue Loves Her Life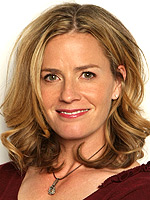 Getty
In 2002, Elisabeth Shue — already a Harvard graduate — was contemplating a return to academia in order to "reconnect with what's real" when she agreed to replace Catherine Keener in the stage production of Burn This. "That sucked me back into the vortex," the 44-year-old actress tells New York magazine, and while she hasn't looked back since she does set some limits. Mom to Miles William, 10 ½, Stella Street, 7, and Agnes Charles, 2, with husband Davis Guggenheim, Elisabeth says she's happy to keep the entertainment industry at arm's length.
"[Acting] has worked for my life really well. I have three children, and I love my life and don't like to leave it too often. If I was more successful, I'd be pulled by great roles and directors wanting to work with me."
Elisabeth's latest film, Hamlet 2, is in theaters now.
Source: New York