Art House DVD: Enjoy the Shape of Things!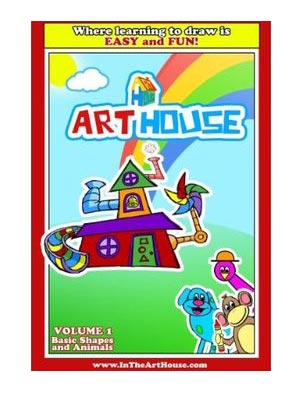 Art House DVD
Art House DVD – Volume 1: Basic Shapes and Animals ($17.99) teaches children how to draw. This is the first in a planned series and Volume 1 uses basic shapes as a base to draw whatever they want. Teacher Emily (a real life Pre-School and Art Teacher) teaches the Art House Gang in drawing a series of animals. The DVD has live action and animation with cute, catchy songs to keep children interested. The point of the video is that everything around you is made up of basic shapes — learn to draw these and you can draw anything — which was a great concept for learning. Click here for a video clip.
We had a great time watching this video. Now, at almost 3-years-old, my son was in the age range for this (recommended for ages 2 and up), but in my opinion it may be better suited for children ages 4-7. My toddler loved it because he loves to draw, but an older child who can follow directions better is going to get more out of it. My son wasn't able to follow the step-by-step method for drawing the animals, but he got the concept and was interested in seeing how the animals were created from shapes. His favorite part was when they showed him how to draw a dog. I found that this helped me to draw animals easier, simply by using shapes.
— Nancy