No Terrible Twos (or Threes!) for Antonio Sabato Jr.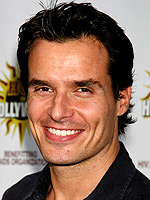 Howard Wise/JPI
Actor Antonio Sabato Jr. believes that he has the best children in the world in son Jack Antonio, 14, and daughter Mina Bree, 6, simply because "there was never a terrible twos or terrible threes." The dedicated dad shared that his kids are "great" and that he credits that to their "great mothers."
"Virginia [Madsen] lives around the corner and we are raising Jack together and he is just a great kid. My daughter is amazing — she is the most beautiful kid in the world. She makes you proud."
The kids are also as proud of their dad as he is of them. When the 36-year-old was taking part in NBC's Celebrity Circus, the kids "were there … every day" and "it was the best job because they would come in and train and jump on the mats and swing around." So much so that now "my daughter can do handstands and all these little muscles would come up." Of course, the kids were in attendance for the most important episode — when their dad won the season! Jack grabbed a hold of the trophy, Antonio recalls, explaining that having the children there to share in his win made "the whole thing just great."
Mina's mom is Kristin Rossetti.
Source: Soap Opera Digest, September 9th issue