Victoria Beckham's Prized Dinner Dish? Minced Meat!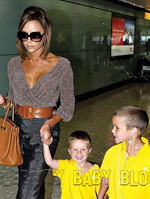 Flynet
Victoria Beckham is considered a great mom, an asset to the fashion industry, and a member of one of the most popular girl bands from the 90s. Even with all of these talents, Victoria herself is the first to admit that she is far from being creative in the kitchen, having learned to make only minced meat! According to the singer — who says her ability to cook the dish is quite ironic as she is a vegetarian — shares that while living in Spain with her husband, soccer star David Beckham, and their three sons Brooklyn Joseph, 9, Romeo James, 6, and Cruz David, 3 ½, the family dined daily thanks to Victoria's cooking. "I cooked every day in Spain so David and the boys lived off minced meat for four years," says Victoria. While the family might be taking a break from Victoria's prized dish, she does reveal that every Sunday — and when she receives special requests from her boys — she can be found in the kitchen making the family's dinner and dessert for her family.
"I cook a Sunday dinner every single Sunday I'll have you know. My kids like Yorkshire pudding so I make that, I can make it from scratch. And I make Dora the Explorer cakes for after because the kids love them."
Victoria is currently promoting her new fragrance, Signature, which is available at Harvey Nichols until September 15.
Source: Manchester Key 103 via Daily Mail