Motherhood Changed Solange Knowles and her Music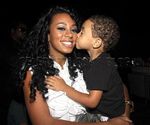 Johnny Nunez/WireImage
Singer Solange Knowles just released her second album, Sol-Angel and the Hadley St. Dreams, but admits that "it really feels like my debut" because she has "truly become a totally different person." Since her first album in 2003, the 22-year-old has married and divorced football player Daniel Smith, and became a mother to Daniel Julez, 3 ½, things that have matured her and the music she performs.

Solange knows that she has changed, and credits that to becoming pregnant at the age of 17. Her focus shifted from teenage things — like going to the prom and the mall — to being the best mother she could be. She explains, "[As] soon asyou find out you're welcoming a child, your life is changed drastically. You have definitely more morals. You definitely have more of a conscience, and your first priority is your child."
In addition, Solange believes that motherhood "has given me the courage to do the things that truly make me happy." Though music brings her joy, it pales in comparison to watching her little boy grow and develop under her watchful eye.
"At the end of the day when all of this is over, I just want to make sure my son is happy with me as a mom first. Everyone else as an artist and everything else comes second, third and last."
Source: Dallas Morning News