Paul W.S. Anderson Slows Down for Fatherhood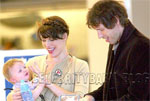 INF
A lifelong fan of fast cars, director Paul W.S. Anderson, 43, says he checked his "need for speed" at the labor & delivery doors. Citing his "responsibilities as a father," after welcoming daughter Ever Gabo, 9 months, Paul traded in his Jaguar for a Cadillac Escalade.
"As a huge family vehicle, I'd give it a 10. It seats so many people — we have one baby, three dogs, my family regularly come over and visit from England. It's a fantastic vehicle for shuffling a large amount of people around in immense comfort."
Perhaps anticipating the environmental criticisms of large SUVs, Paul points out that it's the only set of wheels his family — which includes Ever's mom, actress Milla Jovovich — owns. "We are a one car family right now — director, movie star, one car between us," Paul says, "We're trying to reduce our carbon footprint." He adds,
"Sometimes it's not easy I've got to say, but we're doing our best."
Source: Motor Trend