Nick Knowles Wonders: "Did I Get It Right?"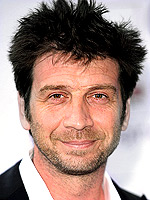 Matrix/Flynet
The struggle to balance work and family is not unique to moms, British television presenter Nick Knowles says. The 45-year-old host of Last Choir Standing admits that his first marriage — which produced children Charlie, 15, Tuesday, 13 and TJ, 11 — ended over his self-proclaimed workaholic ways, and ever since, his time spent with the kids has been limited. According to the Daily Mail, Nick tries to see them every other weekend, but even that arrangement has become difficult to maintain because of the Last Choir schedule. When asked whether he feels guilty about being frequently absent from the lives of his children, Nick replied "of course" and asked "doesn't every working parent?" He adds,
"You always try to balance things. I missed a lot of them growing up. Even now I look back and think, 'Did I get it right?' I don't know. But the fact is that even when I was living there, I was away a lot. And if I hadn't worked so hard, would I be in a position to keep them secure now?"
Source: Daily Mail