LeAnn Rimes "Terrified" of Childbirth, Excited for Motherhood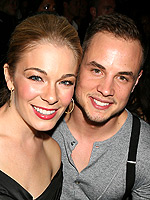 Dave Allocca/Startraks
With a little luck and a lot of "good old fashioned trying," LeAnn Rimes says that she and husband Dean Sheremet are hoping to become parents — sooner rather than later. The couple play the name game even though they're not currently expecting, the 26-year-old songstress reveals to OK! Says LeAnn,
"I definitely have a list and I'm trying not to make them too strange. We're prepared on the name front, but I know it will probably change a zillion times."
Because of the nature of her job LeAnn — who was raised as an only child — is at ease with the notion of having a small family, telling OK! she thinks "one [child] would be a lot easier to travel with." While she admits that she is "terrified of childbirth" LeAnn nonetheless says she's "excited" to see how she and Dean will adjust to life with a baby.
"Becoming a kid again myself would be a lot of fun, and Dean's so good with kids. My mom always said, 'You think you're in love with someone but you don't really realize how deep it can be until you have kids.' It's going to be interesting to have that experience with him."
LeAnn and Dean were married in 2002.
Source: OK!