Felicity Huffman: Motherhood is Not Easy!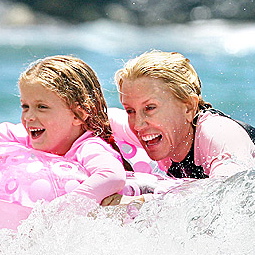 Splash News
Although Felicity Huffman had "just left two screaming [toddlers] in the bathtub," when she set out for her audition for Desperate Housewives in the pouring rain, she was sure that she had "pulled myself together." In the beginning, Felicity had hoped for the part of Bree Van de Kamp, but as the producers later told her, when she arrived "it was so great because you were such a mess and so frazzled and your pants were filthy," which ultimately landed her the perfect role of Lynette Scavo — a stressed, disheveled mom to four kids. Only adding to the decision to give her the role of Lynette came when Felicity was prompted for her feelings on being a mother and — taking no time in answering — said "it's really hard and I'm losing my mind." While her response warranted some strange looks "as if I'd said 'I eat babies,' " causing Felicity to feel "such shame, remorse, and humiliation," her honesty about motherhood coincided with her onscreen character's personality, making for a perfect match.
As a mom to two daughters — Sofia Grace, 8, and Georgia Grace, 6 — Felicity recalls a past interview with 60 Minutes in which she was quick to tell the interviewer that motherhood was not the best experience of her life, going on to say, "I resent the question because I think it puts women in an untenable position." Now, Felicity is eager to share her point of view, explaining that "there's only one right answer to that question and if you don't answer it, you're not a good mother." The working mom is the first to admit that so far, she has not found a balance between her long work days on the set of Desperate Housewives and her roles as a mother and wife, calling it a "constant struggle." While the 45-year-old actress hasn't "figured out how to [balance being a working mom] with grace and no guilt," she has managed to find a sense of peace when it comes to her body image — all thanks to her girls. Says Felicity,
"For some reason after giving birth — which is when you look like a bag of doorknobs — I actually looked at myself in the mirror and went, 'I look beautiful!' I don't know why, but that sort of tipped it for me."
Sofia and Georgia are Felicity's daughters with husband, actor William H. Macy.
Source: More, September issue