Pregnancy a "Minefield," Angela Griffin Says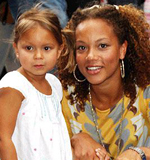 Joe Alvarez/Splash News
When a recent survey revealed that 34% of moms have been embarrassed by the symptoms of their pregnancy while another 45% report having received conflicting advice, the UK charity Tommy's went into action. Dedicated to maximizing the health of pregnant women everywhere, Tommy's has launched Let's Talk Baby to help expectant moms feel more comfortable opening up about the physical and emotional changes that accompany pregnancy. Sharon Simms, a midwife with Tommy's, says that "no question is ever too small or too trivial when it comes to pregnancy. It is always better to ask even if it is just to put your mind at rest."
Angela Griffin, mom to 4-year-old Tallulah Jae and 14-month-old Melissa, agrees and that's why she has signed on to promote the campaign. "Finding out you are going to be a mum is just the most fantastic feeling," the 32-year-old former Coronation Street actress says, "but pregnancy itself can be a complete minefield."
"You want to do the best for your baby and with that comes about a million questions of whether or not you're doing the right thing, what's normal and what isn't. There is so much conflicting information out there, and everyone from your work colleagues to random people in the street has an opinion."
By consulting with Let's Talk Baby, pregnant women will "know that the information you're getting is coming straight from the professionals, and is an answer you can trust," Angela adds. Tallulah and Melissa are Angela's children with Jason Milligan, whom she wed in 2006.
Source: GMTV