The Polkadot Platypus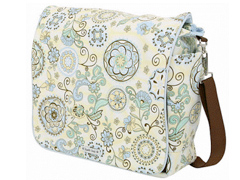 Bumble Bags' Jessica Buttercup Bliss Backpack
The Polkadot Platypus
What: Nothing but fun and practical stuff: Polka dot baby bedding and pinstriped diaper caddies. Princess tutus and superhero capes. Chic diaper bags and upscale strollers.
Why We Love It: The selection isn't overwhelming–that's not to say they don't offerlots– but it's carefully selected. You're seeing the cutest of thecute. Gift registry, a great sale section, and $5 domestic shipping. They also donate a portion of profits to Down Syndrome charities.
Shop Here For: An adorable selection of backpacks and kids messenger bags, the most coveted of the pediped designs, Serena & Lily bedding and organic baby apparel and goodies, designer apparel, stylish gear and strollers, posh bedding, and unique gifts from Knuckleheads, Mia Moda, patemm, Serena and Lily, Max Daniel Baby, SwaddleDesigns®, and more.
Our Favorites: Bumble Bags' Jessica Buttercup Bliss Backpack ($128) is a celeb favorite and their snack bags ($24-$32) are a cute alternative to a Ziploc any day and they're easy to clean. SaraBear's Jack Diaper Caddy ($39.95) will organize your changing station prettily. Joyababy diaper clutches ($50) keep diapering essentials together in your bag.
CBB Deal: Save 20% with code CELEBRITY20 (expires 12/30/09), and $5 shipping daily.