Safety 1st's High-Def Digital Video Monitor: See What's Happening in the Nursery — In High Def!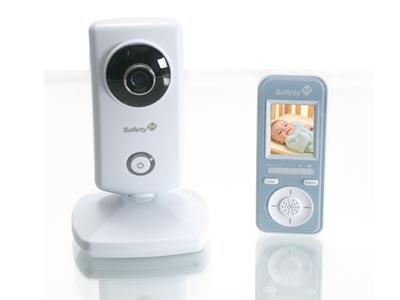 Safety 1st's High-Def Digital Video Monitor
About two weeks ago, my 7-month-old had her first fever. Safety 1st's new High-Def Digital Video Color Monitor ($259) was wonderful to have in our nursery. I was running in to check on her every five minutes anyway, but this video monitor gave me some rest. With its easy set up (I literally just plugged in the camera base and put batteries in the parent unit), this digital video monitor was up and running quickly.
The blue parent hand-held unit is about the size of a cell phone and has a 1.8" video screen. When you turn it on, hold down the on/mode button for four seconds (turn on the camera base the same way). You can set the video screen to turn off after 5, 15, or 30 seconds, the audio monitoring is continuous. When you want to peek at your child, just hit the view button on the parent unit. Want to see your child in the middle of the night? Just hit the view button again. The night vision feature and the zoom in and pan features are my favorite.
This monitor also came in handy for keeping an eye on my toddler during his naptime. He takes a long time to settle down and gets a bit destructive. So instead of standing right outside his door and checking on him every 5 minutes I just move the camera base to his room and plug it in, which only takes a second. If I hear any noise, I can quickly hit the 'view button' to see what he's up to. I can use the zoom function on the parent unit to see exactly where he's throwing his stuffed animals and even pan around the room.
I love this monitor. The video is clear and the night vision feature rocks! Make sure you put down the parent unit or turn it off if you go into the room with the camera base, because it will cause interference. Every single monitor that I have used before has the same issue. I love how portable it is (this one will be traveling to Grandma's house) and how simple it is to use.
CBB Deal: Safety 1st is offering free shipping for the whole month of September.
— Nancy