Piers Morgan on Coming Clean with His Sons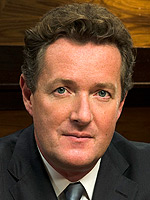 Justin Stephens/NBC
Tabloid editor-turned Britain's Got Talent judge Piers Morgan has no doubt been called many things over the course of his lifetime, but hypocrite might not be one of them.
In the wake of a privacy lawsuit filed against The Daily Mirror during Piers' tenure — involving a story about model Naomi Campbell attending a narcotics anonymous meeting — Piers said he anticipated being asked about his own drug use. Not wanting his three sons to be ambushed by any courtroom bombshells, he says he instead decided to tell Spencer, 15, Stanley, 11 and Albert, 7, the truth. "I said to my parents and my kids, 'Look, I took drugs in the past when I was a young thrusting journalist and it seemed as freely available in newsrooms as a cup of tea, but I don't any more and I haven't for a very, very long time,'" the 43-year-old Celebrity Apprentice winner explains. Noting that "when you've got children, you've got to be careful what you say in public," Piers says he didn't want to leave his kids with the impression that drug use "is cool."
"What I said to them was, 'Look guys, I've known lots of people who've taken drugs in their lives, and the winners stop and the losers carry on. If you remember that, you'll be fine.' I'm not proud of taking drugs and I'm not going to take them again."
The boys are Piers' children with estranged wife Marion Shalloe.
Source: Daily Mail
If you have older children, have you discussed your past indiscretions with them? Do you plan to?