Nigel and Cristen Chin Barker Expecting a Daughter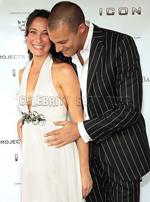 Getty
Update: Surprise! The first ultrasound was incorrect, and the Barkers have now learned that they'll be welcoming a daughter. Nigel's agent explains, "In the first reading, they were told they're having a boy. When they went back for a second reading, they learned it was a girl. They were thrilled to have a healthy baby boy — but to find outit's a girl, they're elated! Now they'll have a son and a daughter."
Nigel tells Us Weekly that they'll be waiting to see their daughter before they name her, saying, "We're going to look at her, and when we see her, we're going to come up with a name."
Originally posted June 21st: America's Next Top Model judge/fashion photographer Nigel Barker, 36, and his model wife Cristen Chin Barker, 33, are expecting their second child, another boy. The baby is due on December 1st and will join big brother Jack, 2 ½.
Source: Us Weekly, June 30th issue