Liv Tyler and Milo Live Like Gypsies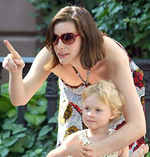 INF
The life of an actress has taken Liv Tyler around the world and back, but she hasn't made the voyage alone. Along for the ride is 3 ½-year-old Milo William, Liv's son with estranged husband Royston Langdon. "As a young baby it's best for him to be close to me," Liv, 31, explains to This Is Bristol. "Of course he is very safe and it's better for us to be together." While the time may come when the arrangement is no longer practical, for now Liv says she wants to spend as much time with Milo as she can "and really listen to him and look him in the eyes and talk to him and make him feel heard." She admits, however, that mother and son "do live a little bit like Gypsies."
"We are home for a few months and then we make a new home in Toronto for three months. [Milo] always says, 'That's mommy's work' when he sees a motor home because he thinks of a movie set. He thinks, let's go play in mommy's trailer and bring some toys and we'll have a ball.'"
No matter what far off location they're currently calling home, "to me the most important thing is that Milo knows that I'm always there," Liv adds.
Source: This Is Bristol